Crypto Pump and Dumps are a common occurrence in the crypto community. This particular scam has been shown to affect mostly new projects which have relatively low market caps and/or little liquidity, making it easy for bad actors to leverage their millions of dollars of worth into commanding greater gains than they actually deserve.
Register now on Binance, add 50$ and get 100$ bonus voucher!
Logan Paul, the YouTube celebrity known for his prank videos, has been accused of being involved in multiple cryptocurrency "pump and dump" schemes.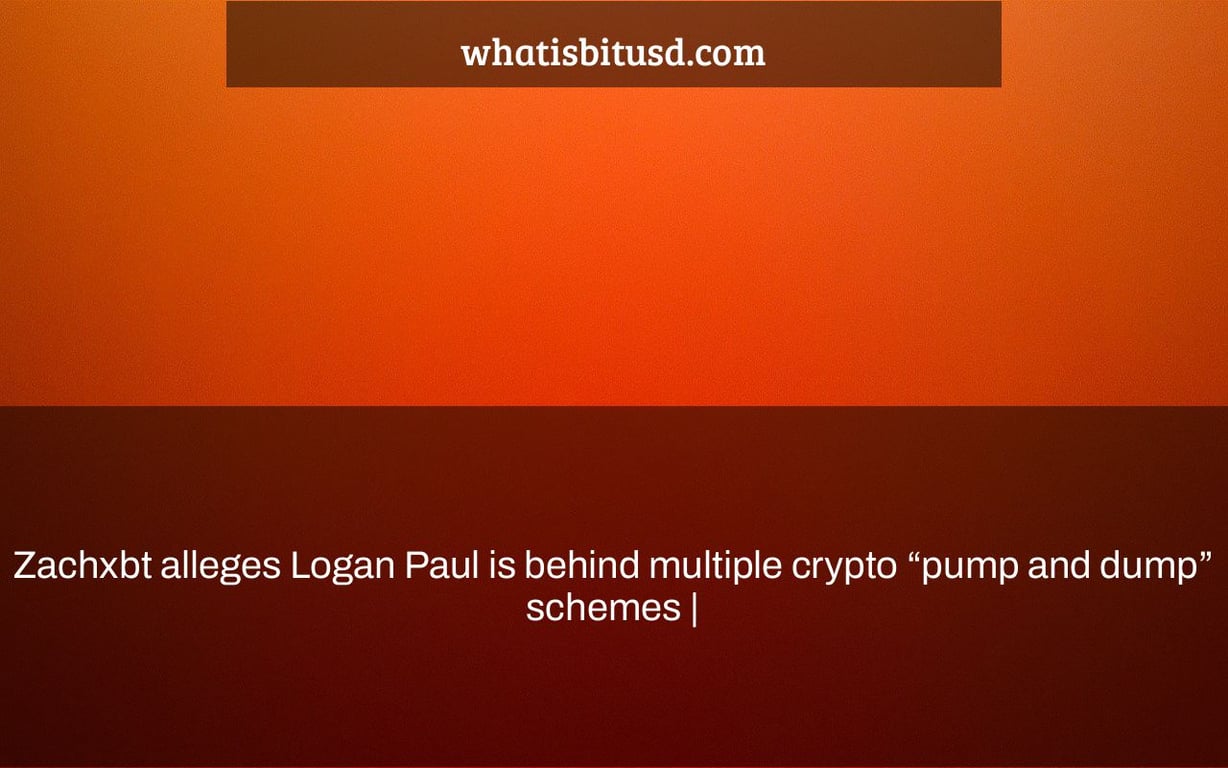 Zachxbt, an on-chain investigator, has struck again with a thread on Logan Paul and his alleged litany of illicit crypto operations.
According to his transaction records, the pseudonymous investigator exposed some of the suspected schemes Logan Paul has been engaged in.
1/ A discussion of @LoganPaul and his so far shaky track record in the Web 3 arena. pic.twitter.com/wNmyw5TyFb
May 13, 2022 — ZachXBT (@zachxbt)
He was able to achieve this by mapping out how monies were transferred in and out of numerous other locations using Paul's public address, 0xff0. For example, 0xb74 sent many NFTs to the primary public address, including three CryptoPunks.
courtesy of Zachxbt
Logan Paul has advocated various pumps and dump schemes over the course of a year, according to Zachxbt. The first is the ELON token, which he promoted in a Facebook leak video.
The video was released on May 10, 2021, and by May 17, Logan had sold his token allotment, according to blockchain data. The transaction netted him $112,000.
The next initiative Logan championed was $FUCKELON, which seems to be a Tesla CEO preoccupation. He seems to have purchased it just before tweeting that the coin was mooning. After that, he sold the tokens and made $116,000.
Register now on Binance, add 50$ and get 100$ bonus voucher!
6/ Case 2: Logan advocates another pump and dump on 5/17/21. He buys just before the Tweet and sells 12 hours later for a total profit of $116,000.
The coin's Twitter account hasn't posted since May 27. image twitter.com/b3gGqfuKmV
May 13, 2022 — ZachXBT (@zachxbt)
Logan Paul used his boxing battle against Floyd Mayweather to promote the Ethereum Max coin. He was given free tokens by the initiative and was able to cash them out for $71.8k.
Other celebrities, including as Floyd Mayweather and Kim Kardashian, promoted him in the same way. Those who purchased the tokens are suing the project's creators and promoters for the failure.
The disastrous DinkDoink crypto project was another pump and dump attempt he was engaged in. He touted the currency once again with videos and tweets, but it turned out to be his fabrication.
The influencer milked his followers with non-fungible tokens (NFT) ventures in addition to crypto pump and dump operations. One of these was the CryptoZoo project, which consisted of Adobe stock photographs combined with Photoshop noses.
9/ When Logan's second crypto project, CryptoZoo, moved contracts, it banned holders.
Logan indicated in an interview with The Block that the first crew was difficult, but that this has already been resolved.
Despite following guidelines, people like Bagsy have yet to get anything pic.twitter.com/57KeVEr68H
May 13, 2022 — ZachXBT (@zachxbt)
While the general nature of the art poses less of a concern, the project's holders were banned when contracts were migrated. Logan Paul, on the other hand, said that the issue was due to a technical glitch, although many investors have yet to get their NFTs.
If the claims are accurate, Logan Paul symbolizes a new breed of crypto influencers who use their followers' trust to promote worthless coins and earn money.
Obtain a Competitive Advantage in the Crypto Market
Join Edge to get access to our own Discord community, as well as more exclusive material and commentary.
On-chain investigation
Snapshots of prices
more information
For $19 per month, join today. Examine all advantages.
Logan Paul is the owner of a YouTube channel that has over 15 million subscribers, and he is also the co-owner of a gaming company known as "Logang". His recent actions have led to him being accused of being behind multiple crypto "pump and dump" schemes. Reference: logan paul buys nft.
Related Tags
logan paul nft project
logan paul crypto wallet address
logan paul coin price
logan paul nft loss
logan paul art
Register now on Binance, add 50$ and get 100$ bonus voucher!